10 Years of the Rhomberg Sersa Rail Group, as recounted by Hubert Rhomberg, Member of the Owner Board; with the company since 1999.
Koni Schnyder and I have been philosophising about the challenges in our industry since 2005. Professionally, we always had the best conversations and felt that we would like to do something together. I have experienced his steadiness on the construction site several times and noticed that he is deeply involved in the subject. His knowledge impressed me. As the Rhomberg Group, we have always wanted to be successful in the Swiss market and have attempted this several times. It was evident that we could only achieve this by working jointly with a Swiss company. Even before the merger, we had various practical points of contact - for example, with our partnership during the construction of the Swiss railway tunnel at the Lötschberg or when we purchased a machine from Sersa in 2008. It was a continuous process of approaching each other until a possible merger became more and more concrete.
How does this family function?
Then Koni and his family invited us to Finland. We barbecued salmon outdoors with the children and had chats with all the family members. It was completely relaxed, but everyone wanted to know: How do they function? I still clearly remember the impressive stability of Trudy, Koni's wife, and her way of acting wisely in the background. My assessment after the Finland visit: This is a fit. The two entrepreneurial families are on equal footing and differences are respected. I knew that we are world champions in cooperation, so we can both have our wishes fulfilled.
Successful fusion by respecting culture
We were both aware that our cultural differences would be the most crucial topic in the initial years after the merger. That's why we hardly optimised in terms of business in the early days but focused on cultural issues. We made sure that our joint management would be accepted. And it was indeed accepted because we were united and also communicated this unity clearly. We stood together, even when things were difficult, for example, during the acquisition of the three Balfour Beatty companies in Germany and with the not-so-easy negotiations when purchasing shares in the company in Canada.
Trust based on competence
The situation in Australia during the year of our merger also challenged us. Should we close the site or guide it through this difficult time? Of course, there is a risk-opportunity assessment that does not always reach a consensus, but in the end, one has to have some trust when making a decision. Koni and I are both convinced that in such situations, having trust that is based on competence can be helpful and useful. When Koni makes a decision regarding the Swiss market, I have trust in the soundness of this decision. Koni, on the other hand, accepts my decisions in the project business, where our competence lies.
Increased inclination for the group name Rhomberg Sersa
We currently still have strong individual brands within the group, but there are more and more market managers who would like to take over the name Rhomberg Sersa Rail Group. This is a development which pleases me personally. It shows that the strength of the group is recognised more and more. Our success factors, from my point of view: We are owner-managed, invest in technology and focus on niche markets. Our biggest potential, which we will still exploit more in the future: We develop new business models and apply our know-how in all our markets.
Making the correct decisions today
The biggest challenge we have to overcome is regarding our labour force. I have the following vision for 2032: As a group, we are so appealing that everyone we need is working for us. We have the best people in all our divisions. Our group is also attractive to young people, as they can work in various business divisions and regions. In 2032, we are leaders in the digitisation and automation of construction site maintenance. Everyone that is involved can initially experience the construction sites virtually. We then know in advance how much equipment and how many machines we need, and everyone knows what needs to be done. Optimisation takes place in advance and we can calculate everything better. This also has big advantages for the employees on the construction site. The foundations for this were laid and reinforced years before already.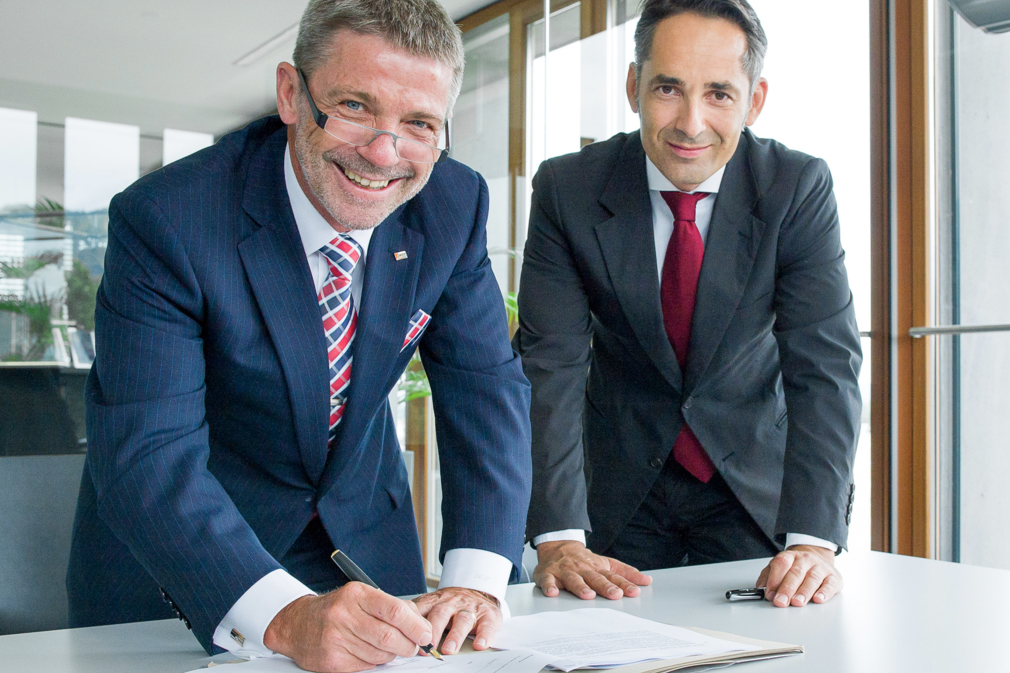 Konrad Schnyder and Hubert Rhomberg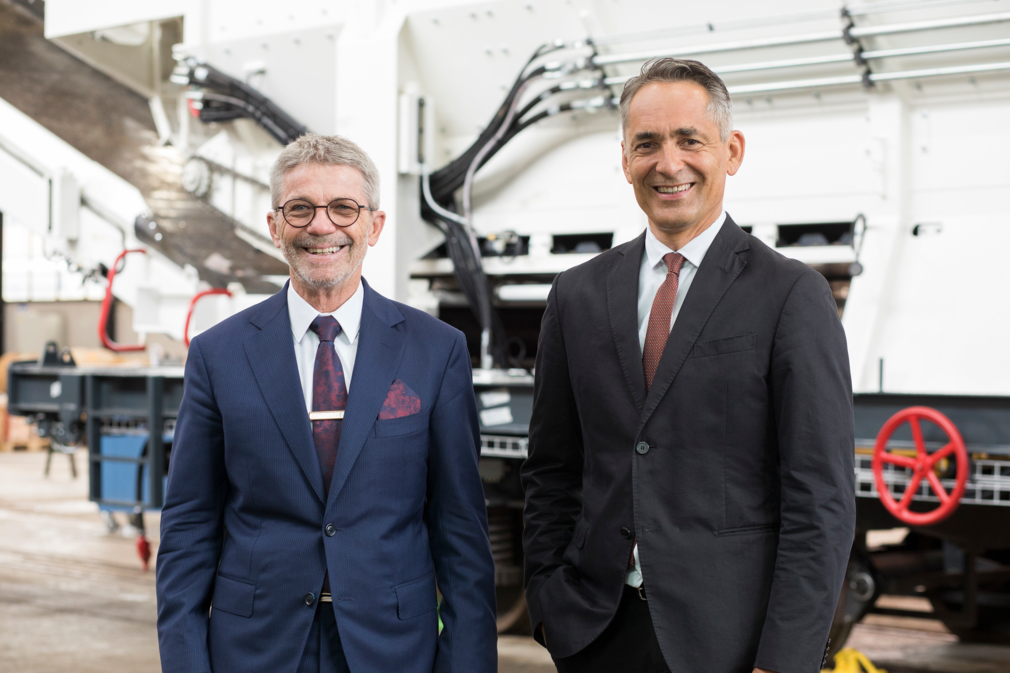 Konrad Schnyder and Hubert Rhomberg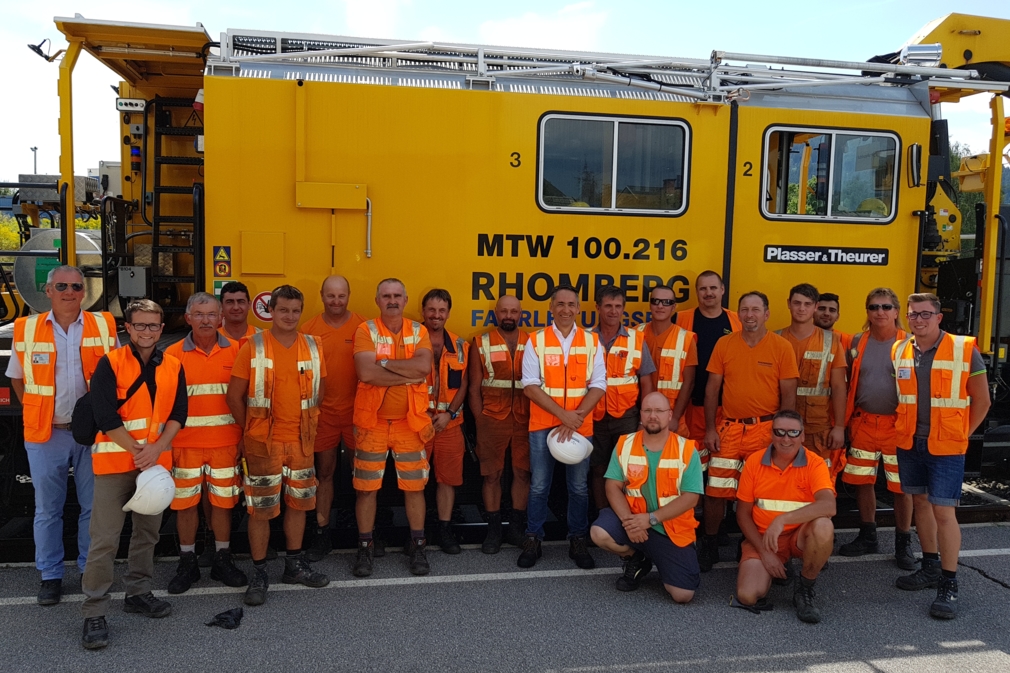 Konrad Schnyder, Walter-Heinz and Hubert Rhomberg